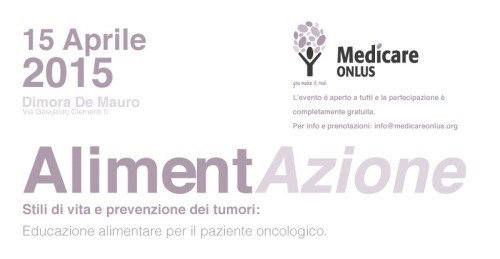 Wednesday, April 15 at 19 at the home De Mauro, in Catania, Via Gesualdo Clementi 5 held the conference "Power", lifestyle and cancer prevention.

Already last November, MEDICARE ONLUS, successfully organized the conference "Food and Cancer", with renowned speakers prof. Berrino Nino Franco and Carlo Battistini.
It replicates, five months later, addressing the delicate issue of prevention through healthy lifestyles and food.
The conference will be structured with the presentation of a project – "Emili" – edited by professors and researchers of the University of Modena and Reggio Emilia and with our new project, "Nutricare", which is aimed at all those who want to change habits of life and food to prevent the occurrence of cancer.
They will moderate the meeting, Dr. Peter Giuffrida, toxicologist and pharmacologist as well as President of NPO MEDICARE and Dr. Giuseppe Banna, medical oncologist and member of the CD Medicare.

Free admission with reservations subject to availability by sending an e-mail to info@medicareonlus.org